Simulationexams.com, leading practice tests provider, updated it's Security+ practice tests to conform to the latest exam objectives. The practice tests offer exam like environment for candidates enabling the candidates to appear for the actual certification exam with confidence. The practice tests consists of 4 individual tests, each with 100 questions. Each question is given detailed explanation so as to ensure that the candidate is familiar with the question topic.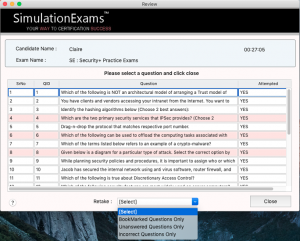 The exam engine offers a rich feature set that include
Learn and exam modes
Night mode
Preview answers
Detailed category wise scoring to know weak areas
Performance based questions
You may review the answered questions by just clicking on the review screen and see correct and wrong answers.
Check out free Security+ questions on the website.
The practice tests come with a demo version which is limited to a smaller set of questions. Full version may be activated online soon after procuring the same. The practice tests are updated from time to time to keep up with the changes in actual exam topics.
About Security+ Certification:  Security+ Certification is offered by CompTIA®. Undoubtedly, Security+ Certification is one of the most widely recognized certification in the field of computer and network security. Security+ exam is targeted for computer service technicians with at least 2 year on-the-job experience. To get Security+ certified, one need to pass only one exam: SY0 – 601.
The CompTIA Security+ exam covers the following domains and topics:
Threats, Attacks and Vulnerabilities: Analyze indicators of compromise and determine types of malware or compare and contrast types of attacks
Identity and Access Management: Implement identity and access management controls or differentiate common account management practices
Technologies and Tools: Troubleshoot common security issues or deploy mobile devices securely
Risk Management: Explain the importance of policies, plans and procedures related to organizational security
Architecture and design: Summarize secure application development, deployment, cloud and virtualization concepts
Cryptography and PKI: Compare and contrast basic concepts of cryptography or implement public key infrastructure
Typical job roles offered by Security+ certified person are Systems administrator, Network administrator, Security administrator, Junior IT auditor/penetration tester, Security specialist, Security consultant. and Security engineer.
About Simulationexams.com: The website, managed by Anand Software and Training Pvt. Ltd., a private limited company in Bangalore, offers practice tests, labs sims and cram notes for various IT certs like CCNA, CCNP, A+, Network+, and otehrs.