Welcome to Simulation Exams. We provide Certification practice tests for CCNA, CCDA, CCNP, A+, Network+, Server+, MCSE, Check Point CCSA, CIW and several others that help test your preparedness for taking the actual certification exam. Practice tests help in consolidating your concepts, preparation and also as exam cram. Each test is based on respective vendors' published exam objectives and designed to help attain certification. Several question types are supported to provide actual exam experience to the Users.
Exam Simulators :
Our Exam Simulators include highly relevant questions for certifications including Cisco®, CompTIA® and Juniper®.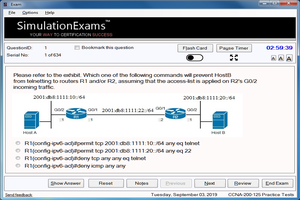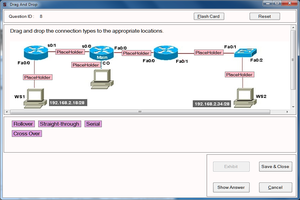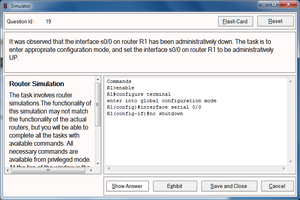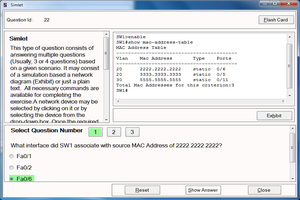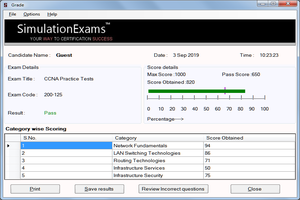 Some features of Exam Simulators:
1. Simulator can be run in learn mode (with correct answers and flash cards for each question) or in Exam mode (which simulates exam environment along with time restrictions).
2. Both learn and exam modes can be configured to set number of questions for each exam, question categories, exam duration and permitted buttons.
3. At end of each exam a detailed report is provided along with category wise scoring.
4. All the exams results can be saved and reviewed in future.
5. We provide most relevant question types for each certification like router simulator, simlet and testlet type questions for Cisco, Juniper certification practice tests and performance based questions like drag and drop for Comptia certification.
6. Instant activation of the full version can be done using program interface.
Recently Released Products..
Latest from our Blog..
About IT Certifications..
Lab Simulators :
Lab Simulator provides detailed labs for candidates to get hands on experience before taking exam. Each Lab simulator include 100+ practice Lab Exercises with lab manual which provides detailed steps for each lab.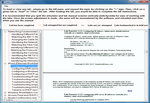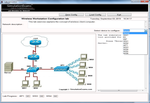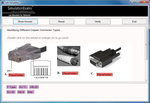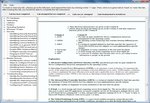 Some features of Lab Simulators:
1. Include 100+ Lab Exercises.
2. Lab Manual provides detailed steps for all labs.
3. Lab manual has options to bookmark lab exercises and also show incomplete lab exercises.
4.Instant activation of the full version can be done using program interface.
Disclaimer: All Simulation Exams practice tests, study guides and/or material are neither sponsored by, nor endorsed by, nor affiliated with Cisco® Systems, Juniper® systems, Microsoft® Corporation, Inc., CompTIA® , Check Point Software Corp., Prosoft®, AXELOS Limited, PMI® ,Oracle® or any other company. All trademarks are trademarks of their respective owners and duly acknowledged. MCSE™, MCSE+I™ are registered trademarks of Microsoft® Corporation and CCNA™, CCENT™, ICND2™, CCNP™, CCIE™ are registered trade marks of Cisco® Systems. A+™, Network+™, i-Net+™, Server+™,Security+™ are registered trade marks of CompTIA®, JNCIA™, Junos™ are registered trademarks of Juniper® systems, CCSA™, CCSE™ are registered trademarks of CheckPoint® Software Corp. CIW™ is a trade mark of Prosoft®. ITIL® is registered trade marks of AXELOS Limited, PMP™ is registered trade marks of Program Management Institute (PMI). Java™, OCA™, OCPJP™ are registered trade marks of Oracle® . The practice tests material is a copyright of SimulationExams.com and the same is not approved or endorsed by respective certifying bodies. Thank-you for your interest in Simulation Exams. Please see read me file before you download, install, and/or use any software from SimulationExams.com For any information or questions regarding this Website, please e-mail webmaster at simulationexams.com