The CompTIA A+® Core 1 exam is one of the most popular IT certifications available today in the field of computer hardware and operating systems. It is designed to test the basic knowledge and skills of entry-level IT professionals. In April 2022, CompTIA released new versions of the A+ exams (220-1101 and 220-1102). These new exams reflect the latest changes in IT technology and best practices.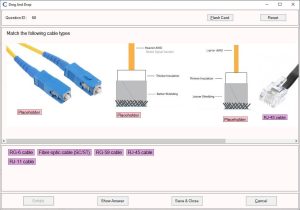 To help IT professionals prepare for the new A+ exams, many companies have updated their practice exams. These practice exams can be a valuable resource for studying for the A+ exams. They can help you identify areas where you need to improve your knowledge and skills. They can also help you get used to the format of the exams and the types of questions that are asked.
Simulation Exams is one website that has updated its A+ Core 1 practice exams for latest exam objectives. The new exam database includes a variety of question types, such as multiple choice, drag-and-drop, and performance-based questions. Simulation Exams also offers detailed answer explanations for each question, so you can learn from your mistakes and improve your understanding of the subject.
The exam topics covered in A+ Core 1 include the following:
Hardware:
Identify and describe the basic components of a computer system
Install and configure common hardware devices
Troubleshoot hardware problems
Networking:
Describe the different types of networks
Install and configure common networking devices
Troubleshoot networking problems
Operating Systems:
Install and configure Windows, macOS, and Linux operating systems
Use common operating system tools and utilities
Troubleshoot operating system problems
Mobile Devices:
Identify and describe the different types of mobile devices
Install and configure mobile devices
Troubleshoot mobile device problems
Troubleshooting:
Use common troubleshooting tools and techniques
Identify and resolve hardware, software, and networking problems
Other Resources: In addition to practice exams, there are other resources available to help you prepare for the A+ exams. These resources include:
Official CompTIA A+ Study Guide: This guide is published by CompTIA and is the official study guide for the A+ exams.
CompTIA A+ Practice Tests: This website offers a variety of practice exams for the A+ exams.
YouTube: There are many YouTube channels that offer A+ exam preparation videos.
IT Forums: There are many IT forums where you can ask questions and get help from other IT professionals.
Conclusion: The A+ Core 1 exam is an important step in your IT career. By using practice exams and other resources, you can increase your chances of passing the exam and becoming a certified IT professional.
If you are interested in taking the A+ Core 1 exam, I recommend that you check out the Sim-Ex practice exam for A+ Core 1 offered by Simulation Exams. These exams are aligned with the latest exam objectives and can help you improve your knowledge and skills.
Disclaimer: Sim-Ex™ is a trade mark of SimulationExams.com and simulationexams.com is not associated with Comptia®.  Comptia A+® is a trademark of CompTIA® organization.