Sim-Ex™ Practice Exams for CCNP ENCOR
Simulationexams.com offers Sim-Ex™ Practice Exams for CCNP ENCOR for prepration of CCNP cetification exam 350-401. ENCOR certification requires you to pass two exams a core exam and an enterprise concentration exam of your choice. A Specialist certification is given for every exam in the CCNP Enterprise program.
CCNP (Implementing and Operating Cisco Enterprise Network Core Technologies) 350-401 : is the core exam that focuses on candidates knowledge on enterprise infrastructure including dual-stack (IPv4 and IPv6) architecture, virtualization, infrastructure, network assurance, security, and automation.
Practice exam features include :
Include 200+ highly relevant questions

Answers with detailed explanation for each question

Testlet type questions

Flash Cards

Integrated Test Engine with online feedback

Category wise scoring, and reporting

The question types include Multiple Choice, True/False, Exhibit, etc.

Conforms to the latest exam objectives

Instant online activation using program interface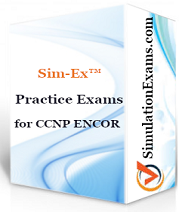 * Get 30% off on listed price, offer valid for a limited time only!
$34.95
Disclaimer: Simulationexams.com is not affiliated with any certification vendor, and Sim-Ex™ Practice Exams are written independently by SimulationExams.com and not affiliated or authorized by respective certification providers. Sim-Ex™ is a trade mark of SimulationExams.com or entity representing Simulationexams.com.CCNP™ is a trademark of Cisco® Systems.