Sim-Ex™ Practice Exams for CCNP Switch (300-115)
Retired! Go to latest
Sim-Ex™ Practice Exams for CCNP ENCOR, Sim-Ex™ Practice Exams for CCNP ENARSI
Simulationexams.com offers Sim-Ex™ Practice Exams for CCNP Switch (300-115) certification. CCNP certification may be obtained by passing three requisite exams, namely CCNP Route, CCNP Switch, and CCNP TShoot. Please note that CCNA is a qualifying certification for attempting CCNP. The CCNP Switch practice tests consist of 200+ questions. The features include Testlets, DragnDrop, and Router Simulations type questions that reflects the actual exam environment. The free demo download includes a few these types of questions.
Practice Exam features include :
Include 200+ highly relevant questions

Answers with detailed explanation for each question

Simlest and router simulation type questions

Completely revised with Simlets, Testlets, and Router Simulation questions

Flash Cards

Instant online activation using program interface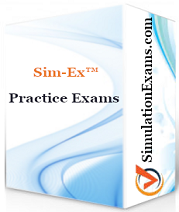 Disclaimer: Simulationexams.com is not affiliated with any certification vendor, and Sim-Ex™ Practice Exams are written independently by SimulationExams.com and not affiliated or authorized by respective certification providers. Sim-Ex™ is a trade mark of SimulationExams.com or entity representing Simulationexams.com.CCNP™ is a trademark of Cisco® systems.