Sim-Ex™ Practice Exams for CCNP - BSCI (642-902)
Retired! Go to latest Sim-Ex™ Practice Exams for CCNP Route
Simulationexams.com offers Sim-Ex™ practice exams for CCNP Certification.CCNP certification may be obtained by passing three requisite exams, namely CCNP Route, CCNP Switch, and CCNP TShoot. Please note that CCNA is a qualifying certification for attempting CCNP.
Include 225+ highly relevant questions
Answers with detailed explanation for each question
Simlest and router simulation type questions
Completely revised with Simlets, Testlets, and Router Simulation questions
Lab exercises for hands-on practice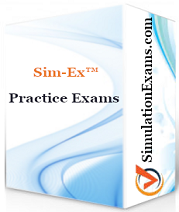 CCNP - Route Exam Details*:
Exam #
642-902 CCNP Route
Number of question
100 questions per test and 225+ questions in total. The question types include Multiple Choice, Drag and Drop, Exhibit, and scenario based.
Exam Objectives Covered
1. Implement EIGRP operations.
2. Implement multiarea OSPF operations.
3. Describe integrated IS-IS.
4. Implement Cisco IOS routing features.
5. Implement BGP for enterprise ISP connectivity
6. Implement multicast forwarding.
7. Implement IPv6.
Passing score
690**
Download Practice tests
Download CCNP BSCI 640-901 practice tests
View practice questions
Practice Questions General BGP OSPF IS-IS
Buy Practice Tests
Click Here
* It is recommended that you verify with the official Web site for current and exact information.
** The passing score is not exactly known, as the exam got revised recently.
For any suggestions or comments please e-mail Webmaster.
Disclaimer: Simulationexams.com is not affiliated with any certification vendor, and Sim-Ex™ Practice Exams are written independently by SimulationExams.com and not affiliated or authorized by respective certification providers. Sim-Ex™ is a trade mark of SimulationExams.com or entity representing Simulationexams.com.CCNP™ is a trademark of Cisco® systems