Sim-Ex™ Practice Exams for CCNP Route (300-101)
Retired! Go to latest
Sim-Ex™ Practice Exams for CCNP ENCOR, Sim-Ex™ Practice Exams for CCNP ENARSI
Simulationexams.com offers Sim-Ex™ Practice Exams for CCNP Route (300-101) certification. Exam 300-101 replaces 642-902 exam. BSCI (Building Scalable Cisco Internetworks) exam. The exam counts towards CCNP certification. Other exams that are required towards CCNP are: 300-115 Switch, and 300-135 TShoot (Short for TroubleShooting). Note that the exams 300-101, and 300-115 count towards CCDP certification as well. Exam 300-101 also counts toward CCIP certification. Route exam evaluates one's ability in using advanced IP addressing and routing in implementing scalable and highly secure Cisco routers that are connected to LANs, WANs, and IPv6.
Practice exam features include :
Include 200+ highly relevant questions

Answers with detailed explanation for each question

Testlet type questions

Flash Cards

Integrated Test Engine with online feedback

Category wise scoring, and reporting

The question types include Multiple Choice, True/False, Exhibit, etc.

Conforms to the latest exam objectives

Instant online activation using program interface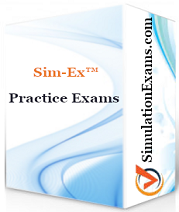 About CCNP Route (300-101) Certification Details*:
Exam #
300-101
Number of question
45-65 (Our practice exams have 200+ questions with Testlets)
Time allowed
120 minutes
Passing Score
750**
Register for exam at
http://www.vue.com/cisco/
Exam Objectives
1.0 Network Principles 10%
2.0 Layer 2 Technologies 10%
3.0 Layer 3 Technologies 40%
4.0 VPN Technologies 10%
5.0 Infrastructure Security 10%
6.0 Infrastructure Services 20%
Download CCNP Route (300-101) Practice Tests
Download
View Practice Questions
General BGP OSPF
Buy CCNP Route (300-101) Practice tests
Click Here
Books Recommended
Click Here
* It is recommended that you verify with the official Web site for current and exact information.
** The current passing score may be different from the one given here.
For any suggestions or comments please e-mail Webmaster.
Retired Tests :
Sim-Ex™ Practice Exams for CCNP Route (642-902)
Sim-Ex™ Practice Exams for 640-901
Sim-Ex™ Practice Exams for 642-801
Disclaimer: Simulationexams.com is not affiliated with any certification vendor, and Sim-Ex™ Practice Exams are written independently by SimulationExams.com and not affiliated or authorized by respective certification providers. Sim-Ex™ is a trade mark of SimulationExams.com or entity representing Simulationexams.com.CCNP™ is a trademark of Cisco® systems.