Sim-Ex™ Practice Exams With Network Simulator for CCNA
Simulationexams.com offers Sim-Ex™ Practice Exams With Network Simulator for CCNA which includes both practice exams and network simulator for prepration of ccna certification.
Practice exam features include :
Include 575+ highly relevant questions

Answers with detailed explanation for each question

Simlest and router simulation type questions

Completely revised with Simlets, Testlets, and Router Simulation questions

Lab exercises for hands-on practice
Network Simulator Features :
100+ lab exercises

Cisco router Network Simulator for hands-on practice

Supports hundreds of Cisco IOS commands

Support for short form commands
Compatible with Win 7, Win 8, Win 8.1, Win 10, Win 11 (32-bit and 64-bit) Operating Systems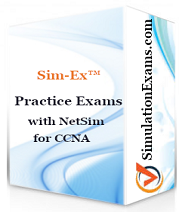 View Sample Questions : CCNA simulation questions VLANs WLANs General Questions CCNA Tutorials
About CCNA 200-301 Certification Exam*:
The CCNA Cisco Certified Network Associate certification can be achieved by passing a single exam (200-301, 2020 exam objectives). The CCNA exam include network fundamentals, IP connectivity, IP services, network access, security fundamentals, and automation and programmability.
Exam #
200-125 (Cisco Certified Network Associate v1.0)
Number of question
50-60 (Our practice exams have 575+ practice question)
Time allowed
120 minutes
Available Languages
English, Japanese
Register for exam at
VUE (www.vue.com/cisco)
Exam Objectives
https://learningnetwork.cisco.com/s/ccna-exam-topics
Books Recommended
Click Here
Questions types
Cisco Career Certification exams include the following test formats:

Multiple-choice single answer
Multiple-choice multiple answer
Drag-and-drop
Fill-in-the-blank
Testlet
Simlet
Simulations

Exam Objectives

1.0 Network Fundamentals 20%
2.0 Network Access 20%
3.0 IP Connectivity 25%
4.0 IP Services 10%
5.0 Security Fundamentals 15%
6.0 Automation and Programmability 10%

View Practice Questions
VLANs, WLANs, General Questions, Simulation Exercises
* It is recommended that you verify with the official Web site for current and exact information.
** The current passing score may be different from the one given here.
Retired Tests :
Sim-Ex™ Practice Exams for CCNA (200-125)
Sim-Ex™ Practice Exams for CCNA (200-120)
Sim-Ex™ Practice Exams for CCNA (640-802)
Sim-Ex Cheat Sheets for CCNA 200-125 (older version 1.0)