You may also be interested in Sim-Ex™ Practice Exams with NetSim for CCNA
Sim-Ex™ Practice Exams with Network Simulator for JNCIA
Simulationexams.com offers Sim-Ex™ Practice Exams with Network Simulator for JNCIA which contain practice tests with 250+ questions along with network simulator. The Network Simulator provides a virtual lab environment where a router network can be simulated. The software is primarily intended for candidates preparing for JNCIA exams.
Network Simulator features
Lab exercises for hands-on practice.

Simulate Juniper® J-series routers (J2320, J2350, J4350 and J6350) and M-series routers (M7i and M10i)

Simulate Juniper® Junos routers.

Support for several router commands

Detailed help files

Support short form commands. You can type short form commands in Junos simulator.

Router simulator

Network designer that provides drag and drop feature for inserting devices and connectors. GUI based device configurator.

Detailed Lab Manual provided.

Connectors available are Serial, Ethernet, Sonet, Fast Ethernet, Gigabit Ethernet, E1, T1, T3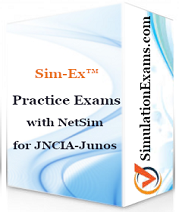 JNCIA-Junos Certification Details*:
Exam #
JN0-104
Number of question
65 multiple-choice questions
Our practice tests package will have 3 such tests (a total of about 250+ highly relevant questions).
Time allowed
90 minutes
Passing score
NA
Exam Objectives
Click Here
Topics Covered

Networking Fundamentals
Junos OS Fundamentals
User Interfaces
Junos Configuration Basics
Operational Monitoring and Maintenance
Routing Fundamentals
Routing Policy and Firewall Filters

Exam Format
Linear
Download JNCIA-Junos Practice Test
Download
View Practice questions
Practice Questions
Buy JNCIA-Junos Practice Test
Click Here
* It is recommended that you verify with the official Web site for current and exact information.
For any suggestions or comments please e-mail Webmaster.
Retired Exams:
Sim-Ex™ Practice Exams for JNCIA-Junos (JN0-102)
Disclaimer: Simulationexams.com is not affiliated with any certification vendor, and Sim-Ex™ Practice Exams are written independently by SimulationExams.com and not affiliated or authorized by respective certification providers. Sim-Ex™ is a trade mark of SimulationExams.com or entity representing Simulationexams.com.JNCIA™ is a trademark of Juniper® Systems.