CCNA™ 200-301 Practice Tests With Network Simulator Download
The CCNA CBT consists of 575+ questions with network simulator. The unique feature that distinguishes our tests over the competitors is the availability of Simlets, Testlets, and Router Simulation type questions to truly reflect actual exam environment. As of this writing, none of our competitors are offering all these types of questions. The free demo download includes a few these types of questions.
The Network Simulator enables you to practice several labs available with the package. The hands-on practice provides candidates to experiment with several configuration scenarios in the areas of NAT, WAN protocols, Routing protocols, etc.
Download Sites:

* Get 30% off on listed price, offer valid for a limited time only!
Download File Details:
Download file size: 48.1 MB
Version : 1.5.0
Approximate download time @24 Mbit/s ADSL...16s.
Compatible with Win 7, Win 8, Win 8.1, Win 10 (32-bit and 64-bit) Operating Systems
CCNA ™ Practice Tests Features:
Include 575+ highly relevant questions
Answers with detailed explanation for each question
Simlest and router simulation type questions
Completely revised with Simlets, Testlets, and Router Simulation questions
Lab exercises for hands-on practice
Some Screen Shots of CCNA™ (200-301) Practice Tests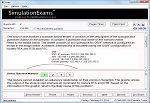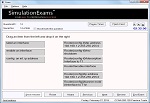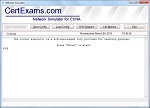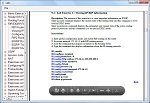 Other tests available include CCNA ICND1, and CCNA ICND2 practice tests.
Retired Tests : CCNA (200-120) CCNA(640-802) CCNA(640-607)
Disclaimer: All Simulation Exams practice tests, study guides and/or material are neither sponsored by, nor endorsed by, nor affiliated with Cisco® Systems or any other company. All trademarks are trademarks of their respective owners and duly acknowledged. CCNA™, CCENT™, ICND2™, CCNP™, CCIE™ are registered trade marks of Cisco®Systems. The practice tests material is a copyright of SimulationExams.com and the same is not approved or endorsed by respective certifying bodies. Thank-you for your interest in Simulation Exams. Please see read me file before you download, install, and/or use any software from SimulationExams.com For any information or questions regarding this Website, please e-mail webmaster at simulationexams.com