Sim-Ex™ Lab Simulator for Network+ : Lab Exercises
Configure WPA on a Wireless Access Point
Description: Configure WPA on a Wireless Access Point
Continuing from the previous lab, your task is to configure WPA on AP1 with a password "cert1" . Also verify that the SSID is set to "CertExams".
| | |
| --- | --- |
| IP Address | 192.168.1.3 |
| Subnet mask | 255.255.255.0 |
| SSID | CertExams |
| Channel | 11 |
Network Diagram: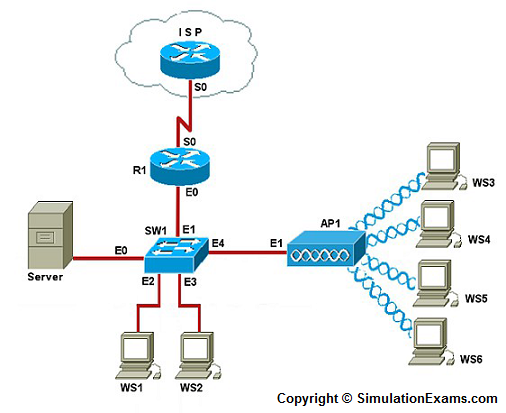 Instructions:
1. Open AP1 properties by clicking on the icon. Click Wireless tab and in Basic Wireless Settings enter Network Name(SSID) as "CertExams" , click Wireless Security tab and select WPA2 - PSK from Security Mode drop down and enter "cert1" as password and click "Save Settings" button.
Note: Please refer to the SimulationExams.com Network+ Lab Simulator software to try complete lab with instructions.
Disclaimer: Simulationexams.com is not affiliated with any certification vendor, and Sim-Ex™ Practice Exams are written independently by SimulationExams.com and not affiliated or authorized by respective certification providers. Sim-Ex™ is a trade mark of SimulationExams.com or entity representing Simulationexams.com.Network+™ is a trademark of CompTIA® organization.