You may also be interested in Sim-Ex™ Practice Exams for CCNA Practice Tests
Sim-Ex™ Practice Exams for JNCIA Junos
Simulationexams.com offers Sim-Ex™ Practice Exams for JNCIA Junos for prepration of JN0-104 certification. The Juniper Networks Certified Associate - Junos (JNCIA-Junos) is the entry-level credential required before candidate can proceed with advanced Junos certification. Candidates will have knowledge of the Networking Fundamentals, Juniper Networks Junos OS, networking fundamentals, and basic routing and switching after this certification.
Practice exam Features
Include 250+ highly relevant questions

Flash cards

Integrated Test Engine with online feedback

Category wise scoring, and reporting

The question types include Multiple Choice, True/False, Exhibit, Drag-n-Drop etc.

Conforms to the latest exam objectives

Instant online activation using program interface

Compatible with Win 7, Win 8, Win 8.1, Win 10, Win 11 (32-bit and 64-bit) Operating Systems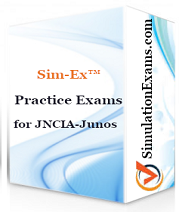 JNCIA-Junos Certification Details*:
Exam #
JN0-104
Number of question
65 multiple-choice questions
Our practice tests package will have 3 such tests (a total of about 250+ highly relevant questions).
Time allowed
90 minutes
Passing score
NA
Exam Objectives
Click Here
Topics Covered

Networking Fundamentals
Junos OS Fundamentals
User Interfaces
Configuration Basics
Operational Monitoring and Maintenance
Routing Fundamentals
Routing Policy and Firewall Filters

Download JNCIA-Junos Practice Test
Download
View Practice questions
Practice Questions
Buy JNCIA-Junos Practice Test
Click Here
* It is recommended that you verify with the official Web site for current and exact information.
For any suggestions or comments please e-mail Webmaster.
Retired Exams:
Sim-Ex™ Practice Exams for JNCIA-Junos (JN0-102)
Disclaimer: Simulationexams.com is not affiliated with any certification vendor, and Sim-Ex™ Practice Exams are written independently by SimulationExams.com and not affiliated or authorized by respective certification providers. Sim-Ex™ is a trade mark of SimulationExams.com or entity representing Simulationexams.com.JNCIA™ is a trademark of Juniper® Systems.