You may also be interested in A+ Core 1 (220-1101) Practice Test and A+ Lab Sim
Sim-Ex™ Practice Exams for ITF+
Simulationexams.com offers Sim-Ex™ Practice Exams for ITF+ which covers IT Concepts and Terminology infrastructure, applications and Software, software development concepts, database fundamentals and security.
Practice exam features include :
Include 200+ highly relevant questions

Flash cards

Integrated Test Engine with online feedback

Category wise scoring, and reporting

The question types include Multiple Choice, True/False, Exhibit, etc.

Conforms to the latest exam objectives

Instant online activation using program interface

Compatible with Win 7, Win 8, Win 8.1, Win 10, Win 11 (32-bit and 64-bit) Operating Systems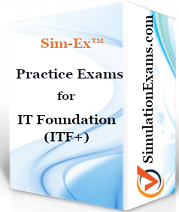 ITF+ (FCO-U61) Certification Details*:
Exam #
FCO-U61, IT Fundamentals (ITF+)
Number of question
Maximum of 75 questions (in actual exam)
Our practice tests package will have 3 such tests (a total of about 200+ highly relevant questions).
Time allowed
60 minutes
Passing score
650 (on a scale of 900)
Register for exam at
NCS/VUE (www.vue.com/comptia/)
Exam Objectives
1.0 IT Concepts and Terminology
2.0 Infrastructure
3.0 Applications and Software
4.0 Software Development Concepts
5.0 Database Fundamentals
6.0 Security
Recommended Experience
None
Official exam site
https://www.comptia.org/certifications/it-fundamentals
Books Recommended
Click Here
Download ITF+ (FCO-U61) practice tests
Download
View ITF+ (FCO-U61) Practice questions
Practice Questions
Buy ITF+ Practice tests
Click Here
* It is recommended that you verify with the official Web site for current and exact information.
For any suggestions or comments please e-mail Webmaster.
Disclaimer: Simulationexams.com is not affiliated with any certification vendor, and Sim-Ex™ Practice Exams are written independently by SimulationExams.com and not affiliated or authorized by respective certification providers. Sim-Ex™ is a trade mark of SimulationExams.com or entity representing Simulationexams.com.ITF+™ is a trademark of CompTIA® organization.