Sim-Ex™ Practice Exams for CCNP Switch (642-813)
Retired! Go to latest Sim-Ex™ Practice Exams for CCNP Switch (300-115)
Simulationexams.com offers Sim-Ex™ Practice Exams for ccnp switch 642-813. CCNP 642-813 Switch exam forms part of CCNP/CCDP/CCIP certification. Other exams that count toward CCNP are: Route 642-902, TShoot 642-832 exams. Note that the exams 642-902, 642-813, and 642-822 count towards CCDP certification also. Building Cisco Switch exam (Formerly known as Multilayer Switched Networks (BCMSN) exam) evaluates one's ability in designing and implementing complex switched networks in Cisco MLS environment.
Practice Exam features include :
Include 300+ highly relevant questions

Answers with detailed explanation for each question

Simlest and router simulation type questions

Completely revised with Simlets, Testlets, and Router Simulation questions

Flash Cards

Instant online activation using program interface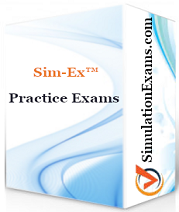 CCNP Switch Exam Details*:
| | |
| --- | --- |
| Exam # | 642-813, Switch (Course: Building Cisco® Multilayer Switched Networks) |
| Number of question | 52 (Our practice tests will have 300+ questions for thorough preparation) |
| Passing Score | 690** |
| Time allowed | 120 minutes |
| Exam Objectives | Click Here for official website |
| Download Practice Tests | Download |
| View Practice Questions | Practice Questions |
| Buy Practice tests | Click Here |
| Books Recommended | Click Here |
* It is recommended that you verify with the official Web site for current and exact information.
** The current passing score may be different from the one given here.
For any suggestions or comments please e-mail Webmaster.
Retired Tests :
Sim-Ex™ Practice Exams for CCNP BCMSN 640-604
Sim-Ex™ Practice Exams for CCNP BCMSN 642-811
Disclaimer: Simulationexams.com is not affiliated with any certification vendor, and Sim-Ex™ Practice Exams are written independently by SimulationExams.com and not affiliated or authorized by respective certification providers. Sim-Ex™ is a trade mark of SimulationExams.com or entity representing Simulationexams.com.CCNP™ is a trademark of Cisco® systems.