Sim-Ex™ Practice Exams for PMP
Simulationexams.com offers Sim-Ex™ Practice Exams for PMP which cover latest exam objectives of certification.
Practice exam features
Include 250+ highly relevant questions

Flash cards

Integrated Test Engine with online feedback

Category wise scoring, and reporting

The question types include Multiple Choice, True/False, Exhibit, Drag-n-Drop etc.

Conforms to the latest exam objectives

Instant online activation using program interface

Compatible with Win 7, Win 8, Win 8.1, Win 10, Win 11 (32-bit and 64-bit) Operating Systems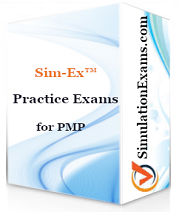 PMP Certification Details*:
Exam #
PMP Certification
Number of question
200 (Multiple Choice). Out of this 25 questions are randomly placed pretest/dummy questions.
Time allowed
4 Hours
Passing score
PMI don't give percentage instead there is a grade system (Proficient, Moderate Proficient and Below Proficient) only below Proficient is Fail
Exam Objectives
Initiation 13%
Planning 24%
Executing 30%
Monitoring and Controlling 25%
Closing 8%

Download Practice Test
Download Sim-Ex™ Practice Exam for PMP
View Practice questions
Practice Questions
Buy Practice Test
Click Here
* It is recommended that you verify with the official Web site for current and exact information.
For any suggestions or comments please e-mail Webmaster.
Disclaimer: Simulationexams.com is not affiliated with any certification vendor, and Sim-Ex™ Practice Exams are written independently by SimulationExams.com and not affiliated or authorized by respective certification providers. Sim-Ex™ is a trade mark of SimulationExams.com or entity representing Simulationexams.com.PMP® is a trademark of PMI™.