Sim-Ex™ Practice Exams for CCNA-ICND2 (200-101)
Retired! Go to latest Sim-Ex™ Practice Exams for ICND2 200-105
Simulationexams.com offers Sim-Ex™ Practice Exams for CCNA-ICND2 (200-101) certificaion. ICND2 (200-101), short for Interconnecting Cisco Networking Devices Part 2 is associated with the Cisco Certified Network Associate certification. This exam tests a candidate's knowledge and skills required to successfully install, operate, and troubleshoot a small to medium size enterprise branch network. The exam covers topics on LAN Switching Technologies, Routing Technologies, WAN Technologies, Infrastructure Services, Infrastructure Maintenance.
Practice exam features :
Include 250+ highly relevant questions

Answers with detailed explanation for each question

Simlest and router simulation type questions

Completely revised with Simlets, Testlets, and Router Simulation questions

Lab exercises for hands-on practice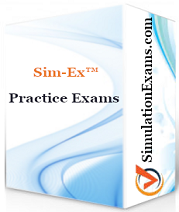 View Sample Questions : VLANs WLANs General Questions CCNA Tutorials
What our customers are saying :
"I have been using the Wendell Odom/Pearson IT Practice exams so I was shocked how different the exam was using simlets and testlets. I think your exam simulator is excellent and I am very pleased with it and the price was good value too. The cheat sheet is very good too" - Richard H
About CCNA ICND2 (200-101) Certification Exam Details*:
Exam #
200-101, ICND2 (Interconnecting Cisco Networking Devices Part 2)
Number of question
45-55 (SimulationExams practice tests will have 300+ most relevant questions with answers)
Time allowed
75 minutes
Passing score
NA
Register for exam at
VUE (www.vue.com/cisco)
Exam Objectives
http://www.cisco.com/web/learning/le3/current_exams/640-816.html
Books Recommended
To be provided soon
Questions types
Cisco Career Certification exams include the following test formats:

Multiple-choice single answer
Multiple-choice multiple answer
Drag-and-drop
Fill-in-the-blank
Testlet
Simlet
Simulations

Exam Objectives

Configure, verify and troubleshoot a switch with VLANs and interswitch communications
Implement an IP addressing scheme and IP Services to meet network requirements in a medium-size Enterprise branch office network
Configure and troubleshoot basic operation and routing on Cisco devices
Implement, verify, and troubleshoot NAT and ACLs in a medium-size Enterprise branch office network.
Implement and verify WAN links

Download Practice tests
Download
View Practice Questions
VLANs WLANs General Questions CCNA Tutorials
* It is recommended that you verify with the official Web site for current and exact information.
** The current passing score may be different from the one given here.
Retired Tests :
Sim-Ex™ Practice Exams for ICND2(640-816)
Sim-Ex™ Practice Exams for ICND2 (640-811)