Sim-Ex™ Practice Exams for CCENT (CCNA-ICND1) 640-822
Retired! Go to latest Sim-Ex™ Practice Exams for CCENT
Simulationexams.com offers Sim-Ex™ Practice Exams for CCENT (CCNA-ICND1) 640-822 certification. CCENT - Cisco Certified Entry Networking Technician is an entry level and the most popular Cisco certification. Getting CCENT certified ensures that the candidate has enough knowledge to plan, configure, and operate simple WAN and switched LAN networks using Cisco products. No pre-qualification is necessary to take CCENT exam. 640-822 is the only exam necessary to pass for obtaining CCENT certification. 640-822 is required for achieving CCNA, which covers medium size enterprise branch networks with more complex connections. The exam tests a candidate's knowledge and skills required to successfully install, operate, and troubleshoot a small branch office network. The exam includes topics on networking fundamentals; connecting to a WAN; basic security and wireless concepts; routing and switching fundamentals; the TCP/IP and OSI models; IP addressing; WAN technologies; operating and configuring IOS devices; configuring RIPv2, static and default routing; implementing NAT and DHCP; and configuring simple networks.
Practice Exam features :
Include 400+ highly relevant questions

Answers with detailed explanation for each question

Simlest and router simulation type questions

Completely revised with Simlets, Testlets, and Router Simulation questions

Lab exercises for hands-on practice

View Sample Questions : VLANs WLANs General Questions CCNA Tutorials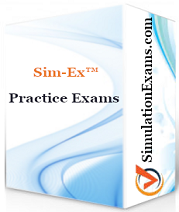 About CCENT (640-822) Certification Exam Details*:
Exam #
640-822, CCENT (Cisco Certified Entry Networking Technician)
Number of question
50-60 (Our practice exams have 400+ practice question)
Time allowed
90 minutes
Passing score
NA
Register for exam at
VUE (www.vue.com/cisco)
Exam Objectives
http://www.cisco.com/web/learning/le3/current_exams/640-822.html
Questions types
Cisco Career Certification exams include the following test formats:

Multiple-choice single answer
Multiple-choice multiple answer
Drag-and-drop
Fill-in-the-blank
Testlet
Simlet
Simulations

Exam Objectives

Describe the operation of data networks.
Implement a small switched network
Implement an IP addressing scheme and IP services to meet network requirements for a small branch office
Implement a small routed network
Explain and select the appropriate administrative tasks required for a WLAN
Identify security threats to a network and describe general methods to mitigate those threats
Implement and verify WAN links

Books Recommended
Click Here
* It is recommended that you verify with the official Web site for current and exact information.
** The current passing score may be different from the one given here.

Disclaimer: Simulationexams.com is not affiliated with any certification vendor, and Sim-Ex™ Practice Exams are written independently by SimulationExams.com and not affiliated or authorized by respective certification providers. Sim-Ex™ is a trade mark of SimulationExams.com or entity representing Simulationexams.com.CCENT® is a trademark of Cisco® systems.