You may also be interested in A+ Core 1 (220-1101) Practice Test and A+ Lab Sim
Sim-Ex™ Practice Exams for A+ Core 2
Simulationexams.com offers Sim-Ex™ Practice Exams for A+ Core 2 which covers installing and configuring operating systems, expanded security, software troubleshooting and operational procedures. One needs to pass A+ Core 1 220-1101, and 220-1102 A+ Core 2. Check out free exam notes on A+ Operating Systems here
Practice exam features include :
Include 325+ highly relevant questions

Flash cards

Integrated Test Engine with online feedback

Category wise scoring, and reporting

The question types include Multiple Choice, True/False, Exhibit, etc.

Conforms to the latest exam objectives

Instant online activation using program interface

Compatible with Win 7, Win 8, Win 8.1, Win 10, Win 11 (32-bit and 64-bit) Operating Systems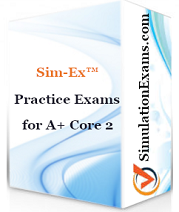 Disclaimer: Simulationexams.com is not affiliated with any certification vendor, and Sim-Ex™ Practice Exams are written independently by SimulationExams.com and not affiliated or authorized by respective certification providers. Sim-Ex™ is a trade mark of SimulationExams.com or entity representing Simulationexams.com.A+™ is a trademark of CompTIA® organization.