Sim-Ex™ Lab Simulator for Network+ : Lab Exercises
Configuring IP address, subnet mask, default gateway statically on a Windows client
Description: Configuring IP address, subnet mask, default gateway statically on a Windows client
Configure IP address, subnet mask, default gateway statically on Windows client workstation WS1 with the following IPv4 configuration settings:
| | |
| --- | --- |
| IP address | 192.168.1.3 |
| Subnet mask | 255.255.255.0 |
| Default gateway | 192.168.1.1 |
Network Diagram: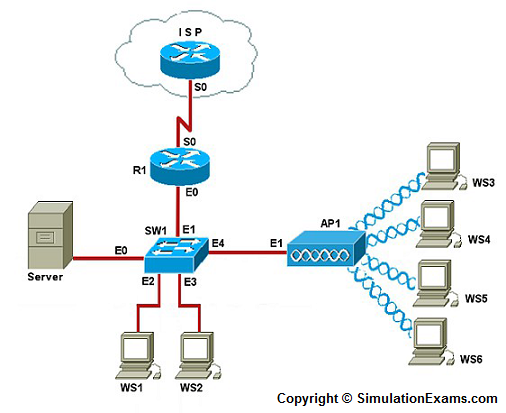 Instructions:
1. Click on WS1 this will open Windows Networking dialog box.
2. Configure the IP address, subnet mask, and default gateway as given. Click on Save button
to save the settings.
3.Exit properties window.
Notes: IPv4 configuration parameters at the minimum include IP address and subnet mask. If you want to communicate outside of the local area network (LAN), you need to configure default gateway also. Additionally, if you want to communicate using hostnames or domain names (for example when accessing the Internet), you need to configure DNS Server IP addresses also.
Note: Please refer to the SimulationExams.com Network+ Lab Simulator software for complete lab with commands