Configuring two DHCP Clients and DHCP verification commands
Description: This lab exercise demonstrates DHCP server configuration and DHCP client configuration on two routers and also shows the verification commands both on the server and the client.
Network Diagram: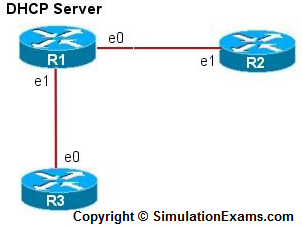 Note: DHCP provides dynamic addressing information to hosts on a network. It allows devices to dynamically acquire their addressing information. The main purpose of the DHCP server is to provide IP configuration parameters to hosts such as the default gateway, domain name, Domain Name System – DNS.
Note: Please refer to the SimulationExams.com Network+ Lab Simulator software to try complete lab with instructions.
Disclaimer: All Simulation Exams practice tests, study guides and/or material are neither sponsored by, nor endorsed by, nor affiliated with CompTIA® or any other company. All trademarks are trademarks of their respective owners and duly acknowledged. A+™, Network+™, i-Net+™, Server+™,Security+™ are registered trade marks of CompTIA®. The practice tests material is a copyright of SimulationExams.com and the same is not approved or endorsed by respective certifying bodies. Thank-you for your interest in Simulation Exams. Please see read me file before you download, install, and/or use any software from SimulationExams.com For any information or questions regarding this Website, please e-mail webmaster at simulationexams.com