LANs and VLANs
Traditional LAN segmentation: Using traditional LAN segmentation, all the segments will be in the same broadcast domain. This effectively, reduces the efficiency of the network. A traditional LAN segmentation is shown below.
VLANs: Using VLANs, the broadcast domain gets divided into the number of VLANs. If there are three VLANs, as shown in the figure, the broadcast domain will be split into three.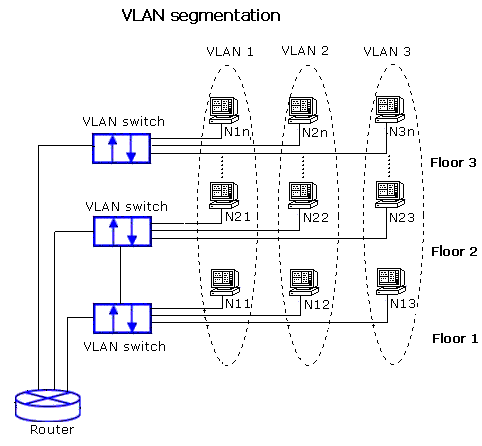 Logical View: Given below is the logical view of segmentation using VLANs. Note that a router is required to route traffic between VLANs, and each VLAN is in different broadcast domain.
Only a single router is shown for simplicity. One or more routers may be used for routing interVLAN traffic.