Network+™ Practice Exams For macOS

Network+™ Practice Exams Features:
SE Network+ Practice Exams for Mac: This application is an practice exam simulator which provides 450+ practice questions for learning, practice and test your preparation for N10-007 CompTIA Networkplus exam.
Exam Simulator covers latest Network+ certification exam objectives, including Networking Concepts, Infrastructure, Network Operations, Network Security, Network Troubleshooting and Tools.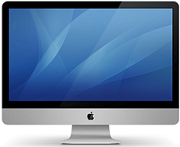 Some main features of the application:
Include 450+ highly relevant questions
Flash cards for each question.
Various question types (MCSA,MCMA,Exhibit,true/false)
Category wise scoring and reporting.
Configuration of exam to change the maximum time, score, pass percentage and permitted buttons while taking exam.
Review feature after taking simulated exam allows you to understand the incorrect answers and explanation for the question.
Question Types Supported :
Multiple choice single answer
Multiple choice multiple answer
Exhibit type
Text and Image Drag and Drop (Performance based)
Current Version: 1.0
Compatibility: macOS 10.14 or later, 64-bit processor
Size: 14.3 MB
Some Screen Shots of Network+™ (N10-007) Practice Exams macOS App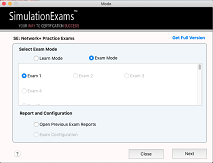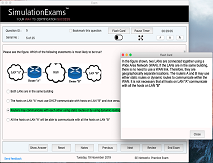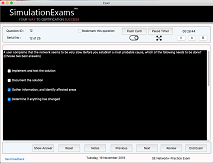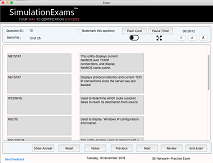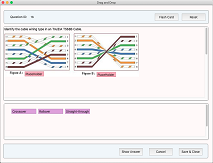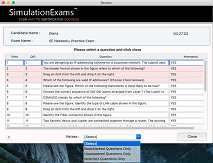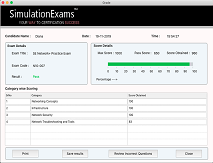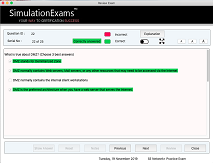 Related macOS apps : A+ Core 1 Practice Tests, A+ Core 2 Practice Tests, Security+ Practice Tests
Disclaimer: All Simulation Exams practice tests, study guides and/or material are neither sponsored by, nor endorsed by, nor affiliated with CompTIA® or any other company. All trademarks are trademarks of their respective owners and duly acknowledged. A+™, Network+™, i-Net+™, Server+™,Security+™ are registered trade marks of CompTIA®. The practice tests material is a copyright of SimulationExams.com and the same is not approved or endorsed by respective certifying bodies. Thank-you for your interest in Simulation Exams. Please see read me file before you download, install, and/or use any software from SimulationExams.com For any information or questions regarding this Website, please e-mail webmaster at simulationexams.com