Sim-Ex™ Practice Exams MacOS App for ICND2

Sim-Ex™ Practice Exams MacOS App Features:
SimulationExams.com offers Sim-Ex™ Practice Exams MacOS App for ICND2. This application is an practice tests simulator which provides 250+ practice questions for learning, practice and test your preparation for 200-105 CCNA ICND2 exam.
Exam Simulator covers latest ICND2 certification exam objectives, including LAN Switching Technologies, Routing Technologies, WAN Technologies, Infrastructure Services, Infrastructure Maintenance.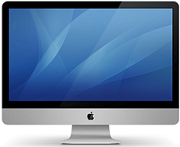 Some main features of the application:
Include 250+ highly relevant questions
Flash cards for each question.
Various question types (MCSA,MCMA,Exhibit,true/false,performance and scenario based)
Category wise scoring and reporting.
Configuration of exam to change the maximum time, score, pass percentage and permitted buttons while taking exam.
Review feature after taking simulated exam allows you to understand the incorrect answers and explanation for the question.
Question Types Supported :
Multiple choice single answer
Multiple choice multiple answer
Exhibit type
Text and Image Drag and Drop (Performance based)
Testlet type (scenario based).
Current Version: 1.0
Compatibility: macOS 10.14 or later, 64-bit processor
Size: 12.6 MB
Some Screen Shots of Sim-Ex™ Practice Exams MacOS App for ICND2 (200-105)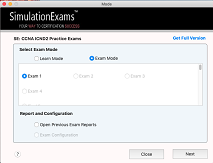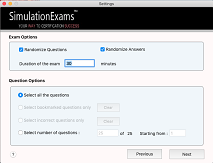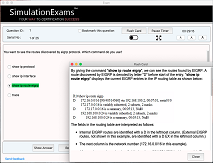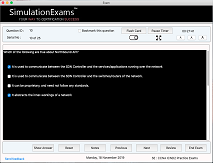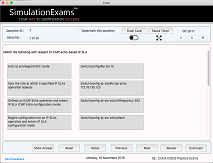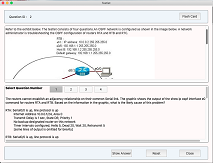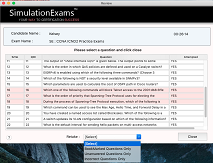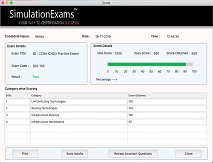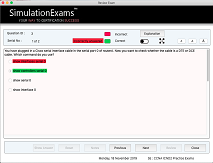 Disclaimer: Simulationexams.com is not affiliated with any certification vendor, and Sim-Ex™ Practice Exams are written independently by SimulationExams.com and not affiliated or authorized by respective certification providers. Sim-Ex™ is a trade mark of SimulationExams.com or entity representing Simulationexams.com.CCNA™ is a trademark of Cisco® systems