Un-Install Procedure
Lab Simulator can be completely uninstalled by going to Control Panel -> Programs -> Program Features -> Uninstall or change program. Refer to image given below :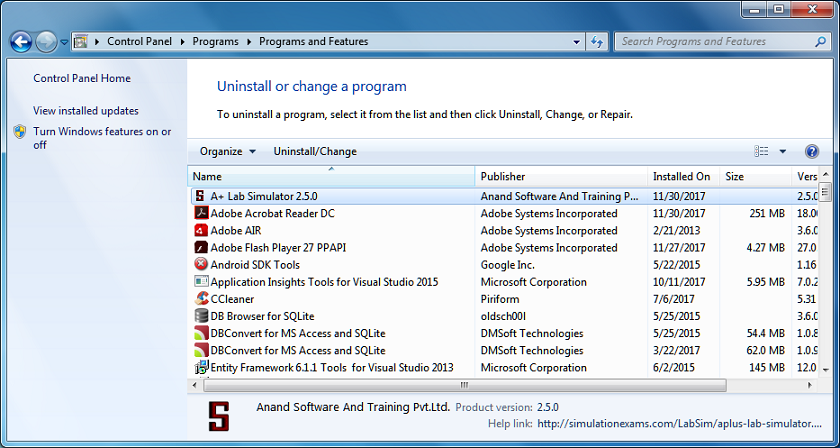 Select the program and click on uninstall. Confirmation message will be displayed as shown below:
The progress bar displaying status of un-installation is displayed.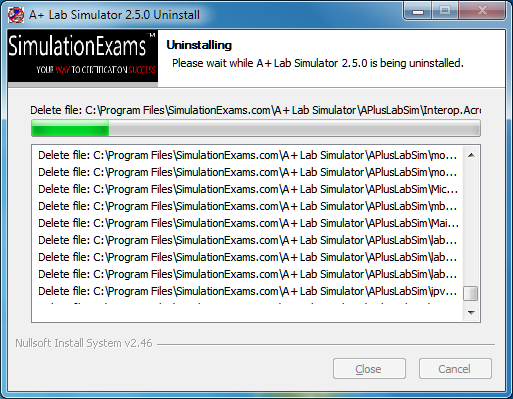 After uninstall is completed message given below is displayed

Please click here to know how to download and install SimulationExams software.
Disclaimer: All Simulation Exams practice tests, study guides and/or material are neither sponsored by, nor endorsed by, nor affiliated with Cisco® Systems, Juniper® systems, Microsoft® Corporation, Inc., CompTIA® , Check Point Software Corp., Prosoft®, AXELOS Limited, PMI® ,Oracle® or any other company. All trademarks are trademarks of their respective owners and duly acknowledged. MCSE™, MCSE+I™ are registered trademarks of Microsoft® Corporation and CCNA™, CCENT™, ICND2™, CCNP™, CCIE™ are registered trade marks of Cisco® Systems. A+™, Network+™, i-Net+™, Server+™,Security+™ are registered trade marks of CompTIA®, JNCIA™, Junos™ are registered trademarks of Juniper® systems, CCSA™, CCSE™ are registered trademarks of CheckPoint® Software Corp. CIW™ is a trade mark of Prosoft®. ITIL® is registered trade marks of AXELOS Limited, PMP™ is registered trade marks of Program Management Institute (PMI). Java™, OCA™, OCPJP™ are registered trade marks of Oracle® . The practice tests material is a copyright of SimulationExams.com and the same is not approved or endorsed by respective certifying bodies. Thank-you for your interest in Simulation Exams. Please see read me file before you download, install, and/or use any software from SimulationExams.com For any information or questions regarding this Website, please e-mail webmaster at simulationexams.com