Sim-Ex™ Practice Exams for Server+
Simulationexams.com offers Sim-Ex™ Practice Exams for Server+ certification which is considered then next level of A+ certification. It is recommended to have about 18 to 24 months experience in the server technologies industry. It covers server architecture, administration, storage, security, networking, troubleshooting as well as disaster recovery. Server+ certification awarded to successful candidates will not expire over a period of time (indefinite validity).
Practice exam features include :
Include 200+ highly relevant questions

Flash cards

Integrated Test Engine with online feedback

Category wise scoring, and reporting

The question types include Multiple Choice, True/False, Exhibit, Drag-n-Drop etc.

Conforms to the latest exam objectives

Instant online activation using program interface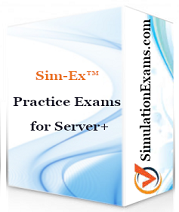 * Get 30% off on listed price, offer valid for a limited time only!
$34.95
Disclaimer: Simulationexams.com is not affiliated with any certification vendor, and Sim-Ex™ Practice Exams are written independently by SimulationExams.com and not affiliated or authorized by respective certification providers. Sim-Ex™ is a trade mark of SimulationExams.com or entity representing Simulationexams.com.Server+™ is a trademark of CompTIA® organization.