Sim-Ex™ Practice Exams for CCNA Security (640-554)
Retired! Go to latest Sim-Ex™ Practice Exams for CCNA Security 210-260
Simulationexams.com offers Sim-Ex™ Practice Exams for CCNA Security (640-554) certification. CCNA Security is to test associate-level knowledge and skills required to secure Cisco networks. Skills required are security infrastructure, recognize threats and vulnerabilities to networks, and mitigate security threats. Exam Objectives cover core security technologies, the installation, troubleshooting and monitoring of network devices to maintain integrity, confidentiality and availability of data and devices, and competency in the technologies that Cisco uses in its security structure.
Practice exam features include :
Include 200+ highly relevant questions

Answers with detailed explanation for each question

Simlest and router simulation type questions

Completely revised with Simlets, Testlets, and Router Simulation questions

Lab exercises for hands-on practice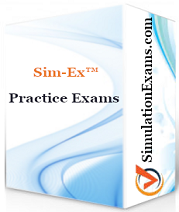 CCNA Security 640-554 Certification Exam Details*:
Exam #
640-554
Number of question
55-65 (Our practice exams have 200+ practice question)
Time allowed
90 minutes
Passing Score
NA
Register for exam at
VUE (www.vue.com/cisco)
Exam Objectives

Common Security Threats
Security and Cisco Routers
AAA on Cisco Devices
IOS ACLs
Secure Network Management and Reporting
Common Layer 2 Attacks
Cisco Firewall Technologies
Cisco IPS
VPN Technologies

Download CCNA Security (640-554) Practice Tests
Download
View Practice Questions
Practice Questions
Buy CCNA Security (640-554) Practice tests
Click Here
* It is recommended that you verify with the official Web site for current and exact information.
** The current passing score may be different from the one given here.
Disclaimer: Simulationexams.com is not affiliated with any certification vendor, and Sim-Ex™ Practice Exams are written independently by SimulationExams.com and not affiliated or authorized by respective certification providers. Sim-Ex™ is a trade mark of SimulationExams.com or entity representing Simulationexams.com.CCNA™ is a trademark of Cisco® systems.