Sim-Ex™ Practice Exams for CCDA (200-310)
Retired! Go to Sim-Ex™ Practice Exams for CCNA
Simulationexams.com offers Sim-Ex™ Practice Exams for CCDA 200-310 certification. CCDA - Cisco Certified Design Associate is an entry level certification, similar to CCNA. Getting CCDA certified ensures that the candidate has enough knowledge to plan, design, and configure simple routed WAN and switched LAN networks using Cisco products. CCDP - Cisco Certified Design Professional is the next level of certification offered in the design track. No pre-qualification is necessary to take CCDA exam. 200-310 is the only exam necessary to pass for obtaining CCDA certification.
Practice exam features include :
Include 200+ highly relevant questions

Flash cards

Integrated Test Engine with online feedback

Category wise scoring, and reporting

The question types include Multiple Choice, True/False, Exhibit, etc.

Conforms to the latest exam objectives

Instant online activation using program interface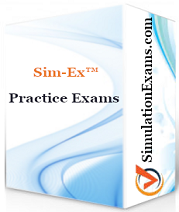 CCDA (200-310) Exam Details*:
Exam #
200-310, CCDA (Cisco Certified Design Associate)
Number of question
55-65 questions
Time allowed
75 minutes
Passing score
790, on a scale of 300 to 1000
Register for exam at
VUE (www.vue.com/cisco)
Prometric (www.2test.com)
Exam Objectives
Click Here
Books Recommended
Click Here
Download CCDA (200-310) practice tests
Download
View CCDA (200-310) Practice questions
Practice Questions
Buy CCDA Practice tests
Click Here
* It is recommended that you verify with the official Web site for current and exact information.
For any suggestions or comments please e-mail Webmaster.
Retired Tests : Sim-Ex™ Practice Exams for CCDA (640-864), Sim-Ex™ Practice Exams for CCDA(640-441)
Disclaimer: Simulationexams.com is not affiliated with any certification vendor, and Sim-Ex™ Practice Exams are written independently by SimulationExams.com and not affiliated or authorized by respective certification providers. Sim-Ex™ is a trade mark of SimulationExams.com or entity representing Simulationexams.com.CCDA® is a trademark of Cisco® systems.