Books recommended for Network+ N10-005 Certification Exam
These books are for Retired exams
Go to books for latest Network+ Certification
1. CompTIA Network+ All-In-One Exam Guide: Exam N10-005 5 Har/Cdr Edition by Mike Meyers
Get complete coverage of all the material included on CompTIA Network+ exam N10-005 inside this comprehensive, up-to-date resource. Written by CompTIA certification and training expert Mike Meyers, this authoritative exam guide features learning objectives at the beginning of each chapter, exam tips, practice questions, and in-depth explanations. Designed to help you pass the CompTIA Network+ exam with ease, this definitive volume also serves as an essential on-the-job reference.
COVERS ALL EXAM TOPICS, INCLUDING HOW TO:
Build a network with the OSI and TCP/IP models
Configure network hardware, topologies, and cabling
Connect multiple Ethernet components
Install and configure routers and switches
Work with TCP/IP applications and network protocols
Configure IPv6 routing protocols
Implement virtualization
Set up clients and servers for remote access

Configure wireless networks
Secure networks with firewalls, NAT, port filtering, packet filtering, and other methods
Build a SOHO network
Manage and troubleshoot network
2. CompTIA Network+ Deluxe Study Guide Recommended Courseware: Exam N10-005 2nd Edition by Todd Lammle
A CompTIA Recommended product, this book is authored by renowned networking authority, Todd Lammle, who brings a wealth of practical experience and insights drawn from real-world experience.
Prepares you for Exam N10-005, the new CompTIA Network+ Exam
Covers all exam objectives including network technologies, network installation and configuration, network media and topologies, security, and more
Includes practical examples and review questions to reinforce learning
Packed with Deluxe add-ons and content, including a CD with additional practice exams and flashcards, the exclusive Network+ simulator, and e-book files in multiple formats for use on almost any reader or device
Networking guru Todd Lammle offers invaluable insights and tips drawn from real-world experience
A CompTIA Recommended product
3. CompTIA Network+ N10-005 Exam Cram (4th Edition) 4th Edition by Emmett Dulaney, Michael Harwood
Covers the critical information you'll need to know to score higher on your Network+ (N10-005) exam!
Understand modern network topologies, protocols, and models
Work effectively with DNS and DHCP
Monitor and analyze network traffic
Understand IP addressing, routing, and switching
Perform basic router/switch installation and configuration
Manage networks and utilize basic optimization techniques
Plan and implement a small office/home office network
Master essential LAN, WAN, and wireless technologies
Install, configure, secure, and troubleshoot wireless networks
Safeguard networks with VPNs, authentication, firewalls, and security appliances
Troubleshoot common problems with routers, switches, and physical connectivity
4. CompTIA Network+ Review Guide: Exam: N10-005 2nd Edition by Bill Ferguson
From the Back Cover
The perfect companion to Sybex's CompTIA Network+ Study Guide, Second Edition

Approach the latest CompTIA Network+ exam with confidence

Before you take CompTIA's Network+ Exam N10-005, reinforce your test prep with this concise guide that reviews all five exam domains: Network Concepts, Network Installation and Configuration, Network Media and Topologies, Network Management, and Network Security. You'll find full coverage of all exam objectives, and also gain access to a practical and targeted set of online review tools.
Easy-to-use book is organized by exam objectives for quick review
Flexible review guide goes hand in hand with any learning tool on the market, including the Sybex CompTIA Network+ Study Guide, Second Edition
"Exam Essentials" section in each chapter helps you zero in on what you need to know
Gain access to a complete set of online exam prep and review tools, including two practice exams, electronic flashcards, and a full Glossary of Terms
5. Network Maintenance and Troubleshooting Guide: Field Tested Solutions for Everyday Problems (2nd Edition) 2nd Edition by Neal Allen
From the Back Cover
The 100% practical, real-world guide to anticipating, finding, and solving network problems—fast!

Real-life networks don't always behave "by the book." Troubleshooting them requires practical intuition that normally comes only with experience. In this book, Fluke Networks' Neal Allen brings together all that hard-won, hands-on insight: everything you need to discover what's really happening in your network, so you can anticipate and fix problems before users even notice them.

Writing for network technicians and administrators at all levels, Allen presents an approach to troubleshooting that has been proven in networks of all kinds, no matter how complex. He introduces indispensable triage and troubleshooting techniques for everything from copper and fiber cabling to IPv6, and presents unparalleled guidance on identifying and resolving problems at the MAC Layer. He illustrates his advice with diagrams, tables, and screen captures from Fluke Networks' market-leading instruments. Throughout this book, Allen also offers practical summaries of each of today's core networking technologies, making it an ideal complement to any network certification study guide.

Coverage includes
Using the OSI model to more efficiently troubleshoot networks layer by layer
Copper and fiber-optic cabling: theory, operation, and troubleshooting
Media Access Control (MAC) Layer: Ethernet theory and operation
Identifying and resolving problems related to IPv4 and IPv6 protocols
Preventing problems before they occur
Discovering device behavior
Troubleshooting switches
Using a protocol analyzer more successfully
Creating network documentation that helps you more efficiently prevent and resolve problems
6. Network+ Guide to Networks 7th Edition by Jill West, Tamara Dean, Jean Andrews
Master the technical skills and industry know-how to begin an exciting career installing, configuring, and troubleshooting computer networks with the completely updated NETWORK+ GUIDE TO NETWORKS, 7E. You can prepare for success on CompTIA's Network+ N10-006 certification exam with fully mapped coverage of all objectives, including protocols, topologies, hardware, network design, and troubleshooting. This edition addresses today's latest technology with new features that make essential information easily accessible and help you visualize high-level concepts. New OSI layer icons visually link concepts and the OSI model. New and updated "On the Job" stories, Applying Concepts activities, Hands-On and Case Projects let you explore concepts in more depth. The NETWORK+ GUIDE TO NETWORKS, 7E's emphasis on real-world problem solving provides the tools you need to succeed in any computing environment.
Editorial Reviews
"I loved the book and I'll list 3 reasons although there are many more!1) It is written to the student's level. Complete explanations without assuming prior knowledge yet not condescending in tone.2) It is current - the cert objectives are covered, yet the text give more information3) It is achievable - there is so much to cover in the topic, yet the author builds carefully on the knowledge to provide a comprehensive view, not just pieces and parts"
Books For Old Network+ Exams
1. CompTIA Network+ Study Guide: Exam N10-004 1st (first) edition Text Only Paperback - 2008 by Todd Lammle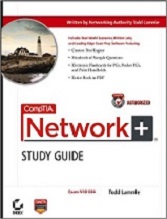 2. CompTIA Network+ Certification Kit: Exam N10-003 by David Groth, Toby Skandier, Bill Ferguson
Each of the three books included in this kit contains concise information on networking essentials, and uses practical examples and insights drawn from real-world scenarios. You'll get up-to-date preparation software, including a test engine and electronic flashcards. Plus, you'll get a look at the necessary day-to-day experiences of a Network+ engineer. With this kit you'll gain an understanding of the skills needed to install, configure, and troubleshoot today's basic networking hardware peripherals and protocols. This boxed set includes three books with everything you need to prepare for CompTIA Network+ Certification:
Complete, in-depth coverage of all exam objectives in a systematic approach, so you can be confident you're getting the instruction you need
Hands-on exercises reinforce critical skills
Real-world scenarios put what you've learned in the context of actual job roles
Challenging review questions prepare you for exam day
Exam Essentials in each chapter helps you zero in on what you need to know
Two full-length practice exams included on the CD