Books Recommended for CIW™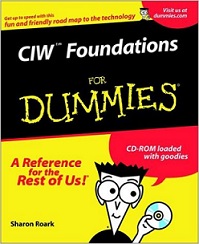 CIW Foundations For Dummies (For Dummies (Computers))
CIW™ Foundations For Dummies(r) - by Sharon Roark (Author), Tom Devine (Author)
Editorial Reviews
Book Description
This friendly guide covers the essentials a CIW candidate needs to know to get ready for and pass the Foundations exam. CIW Foundations For Dummies follows the courses a CIW candidate can take to prepare for the exam - Internet, Web page authoring, and networking fundamentals.
This book covers the CIW Foundations (ID0-410) exam.
Book Info
Your friendly guide to CIW Foundations exam success. Book and software package that actually makes studying fun. Softcover. CD-ROM included.
Download CIW Practice Test