CCSA™ Recommended Books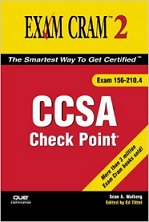 Check Point CCSA Exam Cram 2 (Exam 156-210.4)
Check Point CCSA Exam Cram 2 (Exam 156-210.4) by Sean Walberg
Book Description
The Check Point CCSA Exam Cram 2 provides a concise overview of the latest version of Check Point's certification exam, 156-210.4. Written by an experienced and CCSA, CCSE and CCSE Plus certified network security consultant, this comprehensive review guide maps to the exam objectives for easy study. All of the new features are covered, including:
VPN/Firewall
Smart Dashboard
Smart View Tracker
Network Address Translation
A CD test engine is included with two study modes, Practice Test and Flash Review, with full exam customization and a detailed score report. Choose Check Point CCSA Exam Cram 2 to assist you in your studying, and you'll be choosing the smartest way to get certified.
Author:
Sean Walberg is currently a network engineer for a large Canadian financial services company. His responsibilities include maintaining two large Internet hosting centers that make extensive use of Check Point products.
Over his career thus far, Sean has focused on networks and Internet security, with a brief diversion as a Unix developer. The love of Unix, especially Linux, has stuck with him since, and he has found numerous uses for it in his network and security roles.
Although this is Sean's first book-length project, he served a two-year stint as the author of a weekly Linux newsletter for Cramsession.com, a popular IT certification portal.
When not digging into routers and firewalls, Sean enjoys cooking and tinkering with electronics. He's also been known to lock himself in a room while trying to break World War II-era ciphers.
Sean is a graduate of computer engineering, where his undergraduate thesis focused on the Secure Sockets Layer, which today secures eCommerce transactions all over the Internet. He is also a registered Professional Engineer with the province of Manitoba.
For any further information or questions, please e-mail to Webmaster at SimulationExams.com